Home of the award winning almanac:
Nature's Daily Guide to Success
Discover hundreds of practical rules for living a better, healthier and more successful life. Plan ahead to improve your opportunities, possibilities and activities daily. Know more, be better prepared from the influences of the lunar cycle.
This knowledge has been used for centuries in all aspects of life by generations of farmer's and people living close to nature.
The moon governs the water in all oceans on earth, it rules the tides. All of nature is affected by the lunar cycle. Since our human body consists to 80 percent of water, the moon influences us as well.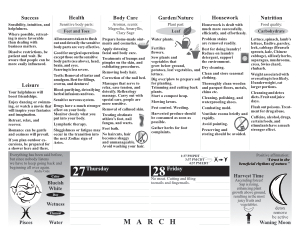 How to use the calendar:
Pick the day of your interest, and just read through the columns to learn about what is favorable or unfavorable to do.
print copy
ISBN 978-1-7324050-4-2
retail: $14.95
e-calendar
ISBN 978-1-7324050-5-9
retail: $9.95
---
Nature's Daily Guide
Reference Book
Explore the lunar cycle and its effects on nature and our lives. The moon has an influence on the history of mankind, the lives of great leaders as well as everyday men and women. It has an effect on all of nature and our well-being, even on our daily activities in multiple areas of life. Here you will find a collection of information on the subject collected from many different sources of mostly European origin.
This reference book illustrates the effects of the phases of the moon, (New Moon, waxing moon, Full Moon, and waning moon). It explains the influence of the zodiac signs on the lunar cycle. All impacts are explained in detail for each of the zodiac signs, and the waxing and waning moon, as they affect the areas of success, leisure, health, body care, garden/nature, housework, and nutrition.
print copy
ISBN 978-0-9854637-8-6
retail: $12.95
e-calendar
ISBN 978-0-9854637-0-0
retail: $6.99